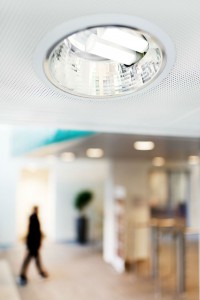 Philips has this week announced the launch of the first direct LED replacement range for compact fluorescent lamps (CFLni) based downlights with 60% energy savings. The new Philips CorePro LED PLC range is the first ever LED alternative to compact fluorescent lamps in down lighting applications that comes in a fully retrofit form factor. It offers both Electro Magnetic (EM) and High Frequency (HF) ballasts compatible versions.
Compact fluorescent lamps are one of the world's most common lamps used in downlights in general lighting applications in offices, hallways, staircases, receptions and meeting rooms.
The new lamps simply plug and play into existing fittings without the need for any modifications to the existing lighting fixtures. Philips CorePro LED PLC deliver energy savings up to 60% and has a lifetime that is three times longer than conventional fluorescent PL-C lamps. Installation and maintenance costs are also kept to the bare minimum thanks to simple plug and play installation and the robust, shatterproof plastic housing. The average pay-back time is less than two years.
"With nearly 150 million conventional fluorescent PL-C lamps estimated to be installed in Europe alone, a direct retrofit LED replacement to this commonly used lamp has been long awaited. The benefits of LEDtubes are now also available for LED PLC lamps with a simple replacement of a lamp," said Rowena Lee from Philips Lighting.
Beyond the big energy saving that LED lamps provide compared to CFL lamps, there are also several other benefits. Not only does it last longer, saving on maintenance, but it can also provide improved light quality with instant illumination and elimination of the flickering associated with conventional fluorescent lamps. The light emitted from the LED lamps contains no UV or infrared component, so the light will not cause textiles or other materials to bleach or fade over time.
Philips CorePro LED PLC are available now via European distributors in warm white (3,000 K) and natural white (4,000 K) color temperatures.