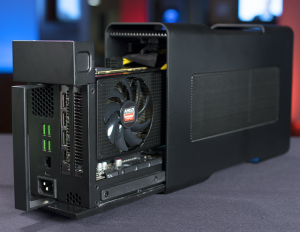 AMD today announced it's intending to revolutionize External GPUs for Notebooks with AMD XConnect™ Technology, in collaboration with Intel and Raze. This should make it easier than ever to pair a powerful external Radeon™ graphics card with a compatible notebook or 2-in-1 using Thunderbolt™ 3.
Traditionally, PC gamers have been faced with the problem of choosing between expensive gaming notebooks, but then sacrifice portability for gaming performance, or choose an ultra thin notebooks for best portability, but then in turn sacrificing gaming performance. With this new solution a lightweight notebook or 2-in-1 can bring the best of both worlds to life, as long as it has Thunderbolt 3 support that is compatible with AMD XConnect™ technology.  You can get a conveniently lightweight and portable computer, that when needed connect to an external GPU, giving you serious framerates and image quality of a gaming notebook.
What AMD XConnect™ technology provides is a form of driver-level support for external graphics cards, and it comes as part of AMD's latest Radeon 16.3 driver. The connection between the external GPU enclosure configured with Radeon™ R9 300 Series graphics is made possible over Intel's Thunderbolt™ 3, and can be connected or disconnected at any time, a first for external GPUs. The driver can also detect what applications are running on the external GPU, and this gives the user the option to close them individually, or shut them all down at once from a pop-up menu in the system tray. AMD also claims the solution will be able to handle cases where a user removes an external GPU unexpectedly.
"AMD XConnect™ technology is representative of the Radeon Technologies Group's on-going commitment to gamers. With the introduction of our user-friendly plug-and-play external GPU solution, gamers no longer need to sacrifice portability for powerful performance in notebook gaming," said Raja Koduri, Senior Vice President and Chief Architect, Radeon Technologies Group, AMD. "As innovators paving the way with an ingenious external GPU solution for notebooks, we look forward to creating a thriving ecosystem of notebooks enabled with AMD XConnect™ technology in collaboration with leading manufacturers."
There is already a notebook available today that can unlock the potential of AMD XConnect™ technology, brought to you in a collaboration with Intel's Thunderbolt™ group and Razer. The new computer is The Razer Blade Stealth, a brand new ultra-thin notebook compatible with AMD XConnect™ technology, and the Razer Core, an external GPU enclosure that connects to the Razer Blade Stealth notebook via Thunderbolt™ 3.
When the Razer Core is equipped with a Radeon™ R9 300 Series GPU, gamers should be able to experience desktop-like gaming performance in a convenient plug-and-play solution on a Stealth running an AMD XConnect compatible driver. AMD promises that its new driver also will be compatible with other systems and external GPU devices, provided they meet a few criteria. First the device must be running Windows 10 build 10586 or newer and Thunderbolt firmware v.16 or higher. It must also feature a Thunderbolt 3 port and 40Gbps Thunderbolt 3 cable and pass Thunderbolt certification. Most importantly, the systems must have BIOS ACPI extensions for Thunderbolt eGFX.
Unfortunately the last criteria means that the few systems that have shipped with Thunderbolt 3 already, might not necessarily be compatible with eGFX devices like the Razer Core today. AMD however claims it should possible to add those extensions in at a later date via a BIOS update, provided the system meets the other criteria. This of course also depends on the manufacturers willingness to release updates for their systems.
"The Razer Blade Stealth was developed as the ultimate Ultrabook™ for work on-the-go, additionally capable of transforming into a desktop gaming environment when connected to Razer Core, thanks in part to remarkable contributions from AMD and Intel," says Min-Liang Tan, Razer CEO and cofounder. "The collaboration and development between Razer and AMD for users with Radeon R9 300 Series graphics in the Razer Core helped us realize the world's first Thunderbolt 3 plug-and-play external graphics solution. A single Thunderbolt 3 connection now provides power and data between the Blade Stealth and Core, and other peripherals can connect to the Razer Core's USB ports to provide a desktop-class gaming experience."
"Thunderbolt™ 3 brings Thunderbolt to USB-C at speeds up to 40Gb/s, creating one compact port that does it all," said Jason Ziller, Director of Thunderbolt Marketing, Intel. "Thanks to technical collaboration with the Radeon Technologies group at AMD, desktop Radeon™ graphics cards are now validated for use with Thunderbolt™ 3. AMD's new XConnect™ technology brings effortless plug-and-play support and a convenient management interface to notebooks and 2-in-1s with the Thunderbolt™ 3 external graphics solution configured with a powerful Radeon™ R9 300 Series GPU."
AMD plans to expand the list of Radeon™ GPUs that can support AMD XConnect™ technology, which will enable gamers to upgrade their enclosures beyond the Radeon™ R9 300 Series.